How to check the status of your case
Last updated: 26 October 2021.
The status of your submitted notification can normally be found in the Inbox of Altinn. You will be notified by e-mail or sms when the case has been processed.
Only the submitter of the form Coordinated register notificaten can check the status. In order to find the notification in your inbox, you must log in to Altinn and represent yourself as an individual.
In the pictures below you will see how to check the status, step by step.
Step 1: Go to your inbox in Altinn

Step 2: Open the form
Different types of statuses
You can now see where the notification is in the process of case processing. In the picture below, you can see that the notification has not yet been submitted to the Brønnøysund Register Centre, but that it has been sent for signing in Altinn. When everyone har signed electronically, the notification will be processed.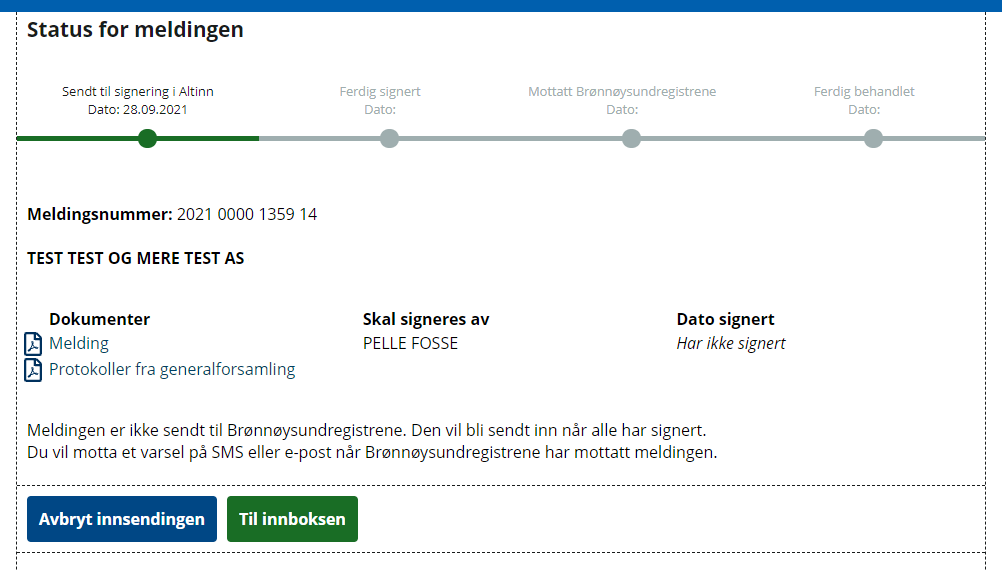 When all the signatories have signed the form Coordinated register notification, it will be submitted to us. You will be notified when we have received it, as well as when it has been processed by us.